About Us
Zeera Indian Takeaway is a Indian takeaway in Suffolk. Why don't you try our Chaat or Tandoori Chicken Starter?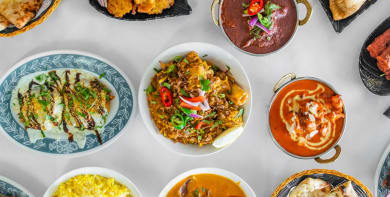 Reviews
278 reviews
mark
"Excellent food and service as usual"
01/06/2020
Lito
"Great food, very tasty. Could do with more meat in the dishes. Would recommend to others"
01/06/2020
Denise
"Great food as usual, would highly recommend"
30/05/2020
Richard
"Brilliant food, right on time."
29/05/2020
Menu
Saag Chana Paneer Masala
Mild
£5.95
Dhoi Masala Gosht
A succulent combination of tender pieces of lamb cooked in olive oil mixed in with onions, tomatoes, spice & yoghurt. Finished with garlic & tangy mild sauce
Medium
£6.95
Garlic Chilli Chicken
Marinated in a fresh garlic paste, cooked in a hot bhuna sauce with plenty of chillies & coriander
Hot
£6.95
Garlic Chilli Lamb
Marinated in a fresh garlic paste, cooked in a hot bhuna sauce with plenty of chillies & coriander
Hot
£6.95
Haryali Chicken
Boneless chicken OR lamb marinated in a mixture of ginger, garlic, lemon juice & special haryali leaf
Medium
£6.95
Haryali Lamb
Boneless chicken OR lamb marinated in a mixture of ginger, garlic, lemon juice & special haryali leaf
Medium
£6.95
Gosht Ranga Jalfrezi
Tender lamb tikka cooked in olive oil with red pepper green chilli & onion garnished with fresh chilli & spices comes in a hot. Fairly hot
Medium
£6.95
Chingri Dhania Masala
King prawn cooked in fresh herbs in medium thick sauce
Medium
£9.95
Achari Bhuna
Chicken cooked with lime pickle (medium hot)
Medium
£6.95
Butter Chicken
Cooked in a mild buttery flavoured rich creamy sauce
Mild
£6.95
Butter Lamb
Cooked in a mild buttery flavoured rich creamy sauce
Mild
£6.95
Mango Delight
Tandoori chicken cooked with almonds, fresh mango sauce & butter in a rich mild creamy sauce
Mild
£7.50
Murgh Masala
Off the bone tandoori chicken cooked with keema in rich medium spice sauce (medium hot)
Medium
£7.50
Pudina Chicken
Chicken tikka cooked with garlic sauce & green chilli with the touch of mint
Medium
£6.95
Pudina Lamb
Chicken tikka cooked with garlic sauce & green chilli with the touch of mint
Medium
£6.95
Roshan Makhani Chicken
Medium
£6.95
Roshan Makhani Lamb
Medium
£6.95
Sallie Tikka Bhuna Chicken
Tender pieces of lamb OR chicken cooked with plenty of roasted onion in a medium sauce, topped with crispy fries
Medium
£6.95
Sallie Tikka Bhuna Lamb
Tender pieces of lamb OR chicken cooked with plenty of roasted onion in a medium sauce, topped with crispy fries
Medium
£6.95
Shatkora Chicken
Succulent pieces of lamb OR chicken medium spiced with a hint of garlic with intense flavour of Bengali lemon
Medium
£6.95
Shatkora Lamb
Succulent pieces of lamb OR chicken medium spiced with a hint of garlic with intense flavour of Bengali lemon
Medium
£6.95
Tandoori Garlic King Prawn
Charcoal grill king prawn in an exotically rich sauce combining the bite of green chillies, fresh garlic & herbs
Medium
£10.95
Tava Chicken
Chicken OR lamb tikka cooked in a Lahore style with the most exotic herbs & spice, crushed garlic, ginger root capsicum & onion, come with red tomato sauce
Medium
£6.95
Tava Lamb
Chicken OR lamb tikka cooked in a Lahore style with the most exotic herbs & spice, crushed garlic, ginger root capsicum & onion, come with red tomato sauce
Medium
£6.95
Tiger King Prawn Chilli Bhuna
Steamed tiger prawns cooked in a spicy thick sauce with green chilli
Hot
£9.95
Tikka Masala Chicken
A mild creamy dish cooked with special masala sauce
Mild
£6.95
Tikka Masala Lamb
A mild creamy dish cooked with special masala sauce
Mild
£6.95
Zuri Chicken
Grilled chicken OR lamb marinated in garlic, ginger, chillies, coriander, cumin seed, lemon & spiced hot & sour marinade (medium hot)
Medium
£6.95
Zuri Lamb
Grilled chicken OR lamb marinated in garlic, ginger, chillies, coriander, cumin seed, lemon & spiced hot & sour marinade (medium hot)
Medium
£6.95
Tikka Main Chicken
Medium
£6.75
Tandoori Special Mixed Kebab
Medium
£9.95
Tandoori King Prawns Main
Medium
£9.95
Tandoori King Prawns Shashlik
Medium
£10.95
Garlic Chicken Tikka
Medium
£6.95
Half Tandoori Chicken Main
Medium
£6.95
Set Meal for 1
•Onion bhaji
•Chicken tikka masala
•Bombay potatoes
•Pilau rice
•Naan
•Can of Coca-Cola
£13.95
Set Meal for 2
•2 poppadom & chutney
•meat samosa
•Chicken tikka
•Chicken korma
•Chicken bhuna
•Saag aloo
•Mushroom rice
•Keema naan
•Bottle of Coca-Cola
£25.95
Set Meal for 4
•4 Poppadom & chutneys
•Onion bhaji
•Seekh kebab
•Chicken tikka masala
•Chicken madras
•Chicken pasanda
•Lamb jalfrezi
•Saag aloo
•Vegetable curry
•2 Pilau rice
•2 Naan breads
•Bottle of Coca-Cola
£42.95
Vegetable Meal for 1
•Vegetable samosa
•Vegetable bhuna
•Vegetable curry
•Pilau rice
•Plain naan
£11.95
Fornham/Fornham All Saints/Fornham St. Martin
£2.50
Chicken Jal Hot Biryani
Hot
£7.95
Chicken Mushroom Biryani
Medium
£6.95
King Prawn Biryani
Medium
£9.95
Zeera Special Biryani
Chicken tikka, lamb tikka & king prawn
Medium
£10.95
Tikka Biryani Chicken
Medium
£7.50
Tikka Biryani Lamb
Medium
£7.50
Tandoori Chicken Biryani
Medium
£7.50
Tikka Dansak Chicken
Medium
£7.95
Indian Raita Cucumber
Veg
£2.15
King Prawn Tikka Garlic Balti
Medium
£10.95
King Prawn Tikka Jalfrezi Balti
Medium
£10.95
Tikka Balti Chicken
Medium
£7.95
Tikka Garlic Balti Chicken
Medium
£8.00
Tikka Garlic Balti Lamb
Medium
£8.00
Tikka Jalfrezi Balti Chicken
Medium
£8.00
Tikka Jalfrezi Balti Lamb
Medium
£8.00
Chef`s Special Chicken Tikka
Cooked with chef`s special spices
Medium
£6.95
Chef`s Special King Prawn
Cooked with chef`s special spices
Medium
£9.95
Chef`s Special Lamb Tikka
Cooked with chef`s special spices
Medium
£6.95
Chef`s Special Prawn
Cooked with chef`s special spices
Medium
£6.95
Bombay Chicken Tikka
Medium sauce cooked with eggs & potatoes
Medium
£6.95
Bombay King Prawn
Medium sauce cooked with eggs & potatoes
Medium
£9.95
Bombay Lamb Tikka
Medium sauce cooked with eggs & potatoes
Medium
£6.95
Bombay Prawn
Medium sauce cooked with eggs & potatoes
Medium
£6.95
Chilli Masala Chicken Tikka
Cooked with roasted onion, green pepper, green chilli with thick hot sauce
Hot
£6.95
Chilli Masala King Prawn
Cooked with roasted onion, green pepper, green chilli with thick hot sauce
Hot
£9.95
Chilli Masala Lamb Tikka
Cooked with roasted onion, green pepper, green chilli with thick hot sauce
Hot
£6.95
Chilli Masala Prawn
Cooked with roasted onion, green pepper, green chilli with thick hot sauce
Hot
£6.95
Jalfrezi Chicken Tikka
Cooked with chilli, onions, green peppers & tomatoes
Hot
£6.95
Jalfrezi King Prawn
Cooked with chilli, onions, green peppers & tomatoes
Hot
£9.95
Jalfrezi Lamb Tikka
Cooked with chilli, onions, green peppers & tomatoes
Hot
£6.95
Jalfrezi Prawn
Cooked with chilli, onions, green peppers & tomatoes
Hot
£6.95
Korai Chicken Tikka
Medium dry sauce cooked with cubed onions & green peppers
Medium
£6.95
Korai King Prawn
Medium dry sauce cooked with cubed onions & green peppers
Medium
£9.95
Korai Lamb Tikka
Medium dry sauce cooked with cubed onions & green peppers
Medium
£6.95
Korai Prawn
Medium dry sauce cooked with cubed onions & green peppers
Medium
£6.95
Makhani Chicken Tikka
Mild & creamy dish cooked with yoghurt & coconut milk
Mild
£6.95
Makhani King Prawn
Mild & creamy dish cooked with yoghurt & coconut milk
Mild
£9.95
Makhani Lamb Tikka
Mild & creamy dish cooked with yoghurt & coconut milk
Mild
£6.95
Makhani Prawn
Mild & creamy dish cooked with yoghurt & coconut milk
Mild
£6.95
Pasanda Chicken Tikka
Mild dish cooked with cream & fresh yoghurt sauce
Mild
£6.95
Pasanda King Prawn
Mild dish cooked with cream & fresh yoghurt sauce
Mild
£9.95
Pasanda Lamb Tikka
Mild dish cooked with cream & fresh yoghurt sauce
Mild
£6.95
Pasanda Prawn
Mild dish cooked with cream & fresh yoghurt sauce
Mild
£6.95
Rezala Chicken Tikka
Slightly dry & medium sauce cooked with ringed onions & peppers
Medium
£6.95
Rezala King Prawn
Slightly dry & medium sauce cooked with ringed onions & peppers
Medium
£9.95
Rezala Lamb Tikka
Slightly dry & medium sauce cooked with ringed onions & peppers
Medium
£6.95
Rezala Prawn
Slightly dry & medium sauce cooked with ringed onions & peppers
Medium
£6.95
Sylhety Supreme Chicken Tikka
Succulent chicken tikka, lamb OR prawn cooked with green pepper & onion in a medium rich sauce
Medium
£7.50
Sylhety Supreme Lamb
Succulent chicken tikka, lamb OR prawn cooked with green pepper & onion in a medium rich sauce
Medium
£7.50
Sylhety Supreme Prawn
Succulent chicken tikka, lamb OR prawn cooked with green pepper & onion in a medium rich sauce
Medium
£7.50
Zeera Special Rice
Chicken tikka, lamb tikka & keema
£3.80
Chicken Tikka Naga Chilli Dansak
Hot
£7.25
Chicken Tikka Naga Chilli Dopiaza
Hot
£7.25
Chicken Tikka Naga Chilli Patia
Hot
£7.25
Chicken Tikka Naga Chilli Saag
Hot
£7.25
King Prawn Naga Chilli Dansak
Hot
£9.95
King Prawn Naga Chilli Dopiaza
Hot
£9.95
King Prawn Naga Chilli Patia
Hot
£9.95
King Prawn Naga Chilli Saag
Hot
£9.95
Lamb Tikka Naga Chilli Dansak
Hot
£7.25
Lamb Tikka Naga Chilli Dopiaza
Hot
£7.25
Lamb Tikka Naga Chilli Patia
Hot
£7.25
Lamb Tikka Naga Chilli Saag
Hot
£7.25
Prawn Naga Chilli Dansak
Hot
£7.50
Prawn Naga Chilli Dopiaza
Hot
£7.50
Prawn Naga Chilli Patia
Hot
£7.50
Prawn Naga Chilli Saag
Hot
£7.50
Patia Tikka Chicken
Medium
£7.95
Roll Kebab Starter Chicken
Medium
£4.95
Roll Kebab Starter Lamb
Medium
£4.95
Roll Kebab Starter Seekh
Medium
£4.95
Tikka Starter Chicken
Mild
£3.10
Tandoori Chicken Starter
Mild
£3.50
Tandoori King Prawns Starter
Medium
£4.95
King Prawns Butterfly
Medium
£4.95
Garlic King Prawns Starter
Medium
£4.95
Garlic Mushroom Puri
Medium
£3.50
Garlic Chicken Tikka
Mild
£3.25
Kebab Starter Reshmi
Medium
£3.25
Kebab Starter Seekh
Medium
£3.25
Kebab Starter Shami
Medium
£3.25
Curry Chicken Tikka
Medium
£6.95
Bhuna Chicken Tikka
Medium
£6.95
Ceylon Chicken Tikka
Medium
£6.95
Kashmir Chicken Tikka
Mild
£6.95
Dopiaza Chicken Tikka
Medium
£6.95
Dopiaza King Prawn
Medium
£9.50
Dopiaza Lamb Tikka
Medium
£6.95
Malaya Chicken Tikka
Mild
£6.95
Vindaloo Chicken Tikka
Hot
£6.95
Madras Chicken Tikka
Medium
£6.95
Saag Chicken Tikka
Medium
£6.95
Rogan Chicken Tikka
Medium
£6.95
Contact Us
Find Us
Unit 11, Hardwick Shopping Centre, Suffolk, IP332RH
We deliver to
IP29, IP30, IP31, IP32, IP33